We are another day closer to YALLWEST! I am getting more and more excited to be attending. I recieved another delivery of books to get signed and introduce you to.
And readers you are in luck! Virals had the wrong cover so I will be getting this one signed and giving it away after YALLWEST!
So let's dive in to this latest book haul!!!
Fae
The battle between Dark and Light is about to begin.
Caroline Ellis' sixteenth birthday sets into motion a series of events that have been fated for centuries. A descendant of Virginia Dare, the first child born in the lost colony of Roanoke, and unaware of her birthright as the heir to the throne of the Light Fae, it isn't until Caroline begins a tumultuous relationship with Devilyn Reilly that the truth of her heritage is revealed.

Devilyn is the only Fae who is both of the Light and of the Dark, and struggles to maintain that precarious balance to avoid succumbing to the power of the Dark within him. He is the only one who can save Caroline from those who would destroy her and destroy all hope for unity among the Fae. He promises Caroline that he will protect her at all costs, even when it means protecting her from himself.

Told from the alternating perspectives of Caroline and Devilyn, FAE draws on mysteries, myths and legends to create a world, and a romance, dangerously poised between Light and Dark.
The 100
Ever since a devastating nuclear war, humanity has lived on spaceships far above Earth's radioactive surface. Now, one hundred juvenile delinquents -- considered expendable by society -- are being sent on a dangerous mission: to recolonize the planet. It could be their second chance at life...or it could be a suicide mission.
CLARKE was arrested for treason, though she's haunted by the memory of what she really did. WELLS, the chancellor's son, came to Earth for the girl he loves -- but will she ever forgive him? Reckless BELLAMY fought his way onto the transport pod to protect his sister, the other half of the only pair of siblings in the universe. And GLASS managed to escape back onto the ship, only to find that life there is just as dangerous as she feared it would be on Earth.
Confronted with a savage land and haunted by secrets from their pasts, the hundred must fight to survive. They were never meant to be heroes, but they may be mankind's last hope.
7 Souls
Mary expected her seventeenth birthday to be a blowout to remember, courtesy of her best friends, fellow New York City prepsters Amy and Joon, and her doting boyfriend, Trick.
Instead, the day starts badly and gets worse. After waking up in a mortifying place with a massive, unexplainable hangover, Mary soon discovers that nobody at school is even aware that it's her birthday. As evening approaches, paranoia sets in. Mary just can't shake the feeling that someone is out to get her—and, as it turns out, she's right. Before the night is over, she's been killed in cold blood.
But murder is just the beginning of Mary's ordeal. Her soul gets trapped in a strange limbo, and she must relive the day of her death through the eyes of seven people—each of whom, she finds, had plenty of reasons to hate her. As Mary explores the mysteries of her world, discovering secrets that were hidden in plain sight while she was alive, she clings desperately to the hope that she can solve her own murder, change the past, and—just maybe—save her own life.
Blue Bloods
When the Mayflower set sail in 1620, it carried on board the men and women who would shape America: Miles Standish; John Alden; Constance Hopkins. But some among the Pilgrims were not pure of heart; they were not escaping religious persecution. Indeed, they were not even human. They were vampires.The vampires assimilated quickly into the New World. Rising to levels of enormous power, wealth, and influence, they were the celebrated blue bloods of American society.
The Blue Bloods vowed that their immortal status would remain a closely guarded secret. And they kept that secret for centuries. But now, in New York City, the secret is seeping out. Schuyler Van Alen is a sophomore at a prestigious private school. She prefers baggy, vintage clothes instead of the Prada and pearls worn by her classmates, and she lives with her reclusive grandmother in a dilapated mansion. Schuyler is a loner...and happy that way. Suddenly, when she turns fifteen, there is a visible mosaic of blue veins on her arm. She starts to crave raw food and she is having flashbacks to ancient times. Then a popular girl from her school is found dead... drained of all her blood. Schuyler doesn't know what to think, but she wants to find out the secrets the Blue Bloods are keeping. But is she herself in danger?
We Were Liars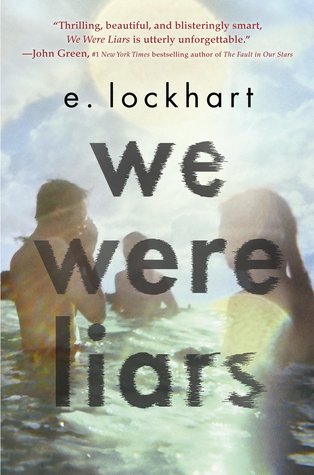 A beautiful and distinguished family.
A private island.
A brilliant, damaged girl; a passionate, political boy.
A group of four friends—the Liars—whose friendship turns destructive.
A revolution. An accident. A secret.
Lies upon lies.
True love.
The truth.
Virals
Tory Brennan, niece of acclaimed forensic anthropologist Temperance Brennan (of the Bones novels and hit TV show), is the leader of a ragtag band of teenage "sci-philes" who live on a secluded island off the coast of South Carolina. When the group rescues a dog caged for medical testing on a nearby island, they are exposed to an experimental strain of canine parvovirus that changes their lives forever.

As the friends discover their heightened senses and animal-quick reflexes, they must combine their scientific curiosity with their newfound physical gifts to solve a cold-case murder that has suddenly become very hot if they can stay alive long enough to catch the killer's scent.

Fortunately, they are now more than friends. They're a pack. They are Virals.
Code
The Virals are put to the ultimate test when they find a geocache containing an ornate puzzle box. Shelton decodes the cipher inside, only to find more tantalizing clues left by "The Gamemaster." A second, greater geocache is within reach—if the Virals are up to the challenge.

But the hunt takes a dark turn when Tory locates the other box—a fake bomb, along with a sinister proposal from The Gamemaster. Now, the real game has begun: another bomb is out there—a real one—and the clock is ticking.