The VIRALS Series
By Kathy Reichs and Brendan Reichs
VIRALS-
Synopsis:
Tory, the niece of the illustrious Temperance Brennan, has had to move to Morris Island in South Carolina from Massachusetts after her mother dies in an accident. Now she is living with a father she never met in a place she doesn't know.
Tory finds friendship in the other teens that live on Morris Island and with their help she embarks on the adventure of a lifetime.
After finding an old rusted dog tag Tory decides to clean it up and find out who it once belonged to. That turns out to be easier said than done. Cleaning up the dog tag leads them to break in to LIRI to use their awesome equipment, what they don't expect to find is a dog caged up in a lab.
The group rescues the dog, whose only label identifies that he has a strain of Parvovirus. What they don't know is that this dog is carrying a new strain of the virus that can affect humans as well. And now that they have been exposed to the virus life will never be the same.
They discover that they now have new abilities, heightened senses and reflexes. And they put these new gifts to use as they solve a cold-case murder, that all ties back to that dog tag.
Now they are more than friends. They are a Pack. They are Virals.
Review:
I LOVED Virals. I haven't read a young adult mystery thriller this good in ages.
I'll admit I am a huge "Bonehead" and my love of Bones is what lead me to even pick up Virals.
The combination of a strong female protagonist that is take charge and kick butt along with science and an unsolved murder is a perfect storm for me. Virals fully delievered on all counts.
The story is gripping and each twist and turn unfolds a little bit more of the mystery, leaving you on the edge of your seat. THis is one of those books that you can't put down until you have finished it and then you will instantly crave the next book in the series. (I recommend having the entire series on hand if you want to avoid an extended book hangover.)
Tory is a great role model for readers and I believe she should definitely become a household name. Both fun and educational.
Rating: ****/*****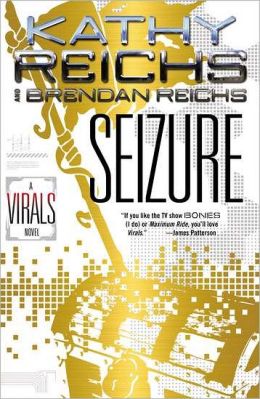 Seizure-
Synopsis:
Now that they are "Virals" they aren't just normal teens anymore, now they are a fierce crime fighting pack.
In Seizure the Virals are facing what feels like their biggest challenge yet. With LIRI out of funding it looks like their parents will be seeking jobs elsewhere, which means the Pack is about to be split up.
Not a group to take things lying down they decided that they will do everything in their power to help save LIRI and keep them together.
Tory can't believe her luck when she learns of the legend of the female pirate Anne Bouney, whose lost treasure is rumored to be buried in the area. If they can find the treasure they can save LIRI and stay together.
But someone else is on the same treasure hunt and now the Virals will be lucky if they survive this adventure.

Review:
BEWARE! THERE BE SPOILERS IN THIS REVIEW!
This Virals novel is like Bones meets Goonies. Seriously who would have thought that those two awesome concepts could be combined into an even more awesome concept!
I just want to point out some of the similarities between Seizure and Goonies:
1. LIRI is about to lose their funding and the pack is going to have to move, just like The Goonies are all having to move from their homes.
2. Then they find out about a lost treasure and decide to find it, in Goonies they found a map in an attic.
3. Then they go on what might be one last epic quest as a Pack. The Goonies go on one last adventure.
4. The Virals have to avoid the dangers of whoever else is after Anne Bouney's treasure. The Goonies have to escape the clutches of The Fertelies.
5. They find the treasure and save the day in both cases!
Alas nobody like Sloth appears in Seizure. This might be the only thing missing from the novel.
So has this story been told before? Yes it has, but not in this exciting Sci-Fi way. A little more predictable than the other Virals novels but Kathy and Brendan Reichs still throw in plenty of twists and turns to keep you on your toes.
Rating: ***/*****

Shift-
A Virals Novella
Synopsis:
Tory's Great Aunt Temperance is in town for a visit, just in time to help investigate a robbery at LIRI.
Who could have gotten into the lab? And how did they get the equipment off of the island?
Even though her Aunt is there and there is no one better qualified to solve this crime Tory and her Pack want to solve the case on their own.
It's Brennan v. Brennan in this exciting who done it!
CODE-
Synopsis:
The Virals are back and better than ever!
An ordinary day of geocaching soon turns into one of the Virals most thrilling and dangerous adventures yet.
While geocahing the pack finds an Ornate puzzle boxs. Shelton, master of breaking code, decodes the cipher inside the box only to be lead to more clues left by "The Gamemaster".
The fun turns deadly when the clues lead them to another box, a fake bomb, and a proposal from "The Gamemaster". A real bomb is out there, and the clock is starting to countdown.
Can Tory and her Pack foil The Gamemaster's plan before someone gets hurt?
Review:
The geocaching plot line is wonderful and unique. I was thrilled when I read that they were geocahing in this adventure, good wholesome fun for teens! Of course then the story takes a dark turn and that's when things get really exciting.
I held my breath as Tory and the Virals followed the clues that "The Gamemaster" had laid out for them in this race against time adventure. I couldn't read the book fast enough and at the same time I didn't want it to end.
Having to wait for the next part of the Virals adventure gives me an excited form of anxiety. I can't wait to see what happens next!
Rating: ****/*****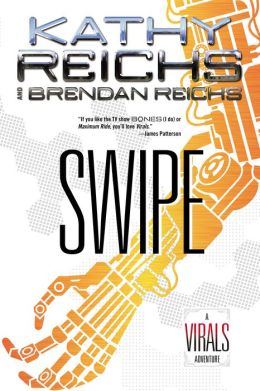 SWIPE:
A VIRALS novella. SWIPE is available as an ebook only.
Synopsis:
Tory and her Great Aunt Temperance are at the wonderful and amazing Comic-Con!
When a valuable Terminator replica disappears Tory and Temperance join forces to solve the case.
When a ransom note arrives threatening to destroy the replica Comic-Con staff quickly start to accuse each other. The clues are starting to mount up.
Can Temperance and the Virals Pack find the thief and save the replica before it's too late?
Review:
Virals and Bones fans will love this short and sweet short story about the Virals Pack going to Comic Con and saving the day with the help of Aunt Tempe!
I will admit that this is not as good as the other books but it is only a short story. And I LOVED seeing my girl Temperance Brennan make an appearance! (I am a huge bonehead....)
Seeing the Pack out of their usual environment and in the Comic Con world was really fun, and solving a fun silly crime without being on the run for their lives is always nice once in a while. Really cute.
Rating:
****/*****
Exposure-
Synopsis:
The Packs powers are growing wilder and going out of control. The bond between them is weakening and the Pack itself is in danger.
On top of that two of their classmates, twins, have been abducted from Bolton Prep and it looks like the Virals have another case on their hands.
The Virals have to follow the clues and find the criminal before he strikes again, all while trying to protect their secret. But that's not an easy task when it seems like all eyes are on them.
Review:
Another riveting entry in the Virals series! I couldn't put it down. Once again the story is full of twists and turns and what you believe to be true may not be the case. The Reichs duo really pushes you to think like a detective. It's always great to revisit the Virals gang and see what they are up to. It made me really excited for the last book in the series!
LOCATIONS IN VIRALS
To have a more in depth look at the locations in VIRALS visit:
LIRI-
LIRI stands for Loggerhead Island Research Institute. LIRI is a private research facility. They observe the monkeys on the Island and are not allowed to participate in any form of animal experimentation.
Loggerhead Island-
Only half a square mile large Loggerhead Island is mainly inhabited by monkeys. You can also find the Wolfdogs here. The only man made structure on the Island is LIRI
.
Morris Island-
Morris Island is HUGE compared to Loggerhead at a whopping four square miles.
The northern half of the island is nothing but rolling, sandy hillocks. The western side of the Island is dense marshland. THe middle consists of sand hills rising 30-40 feet towards the south as the Island widens. LIRI keeps faculty housing on Morris Island and this is where all the Virals and their families reside.
Bolton Academy-
One of the premier private schools Acceptance is Invitation only.The Pack all attend on scholarship from LIRI, the school and the research facility have an agreement to accept the children of employees.
The Bunker-
The Bunker serves as the Packs club house. An old abandon military structure, the Virals found it one day while searching for a lost Frisbee. They seem to be the only ones who know about the structure and that's just the way they like it.
MEET THE PACK
Tory (Victoria) Brennan-
Tory is the 14 year old great niece of Temperance Brennan. She has recently moved in with her Dad, Kit, in Charleston, South Carolina. It's a long way from the home she grew up in with her Mom in Massachusetts, but going back isn't an option. Her Mom is gone so Tory will just have to adjust.
Tory is the Alpha Viral even though she is the youngest. She's intelligent, strong willed and kick butt.
5'5" red hair, emerald eyes, and pale skin.
Hi (Hiram) Stolowitski
- Hi 15 years old is on the chubbier side. He also figures himself a comedian and he provides the comic relief to the group, even in the midst of deadly mysteries. His personal style is heavy on Hawaiian Shirts. Hi isn't the biggest fan of Tory's schemes but in the end he is usually swayed by Ben and Shelton.
Ben Blue-
16 years old and part Sewee Indian Ben is the most reserved and serious member of the Virals pack. He has shoulder length black hair, dark eyes and a copper tan.
Ben's love is his boat, a 16 foot Boston Whaler Runabout he named SEWEE. SEWEE is the Virals main means of transportation.
Shelton Devers-
Half African-American, half Japanese this 15 years old is a whiz with technology and mechanics. He is also an expert lock pick, which comes in handy when sneaking around searching for clues! And his code breaking skills probably have the NSA salivating to recruit him.
Cooper- Cooper is the fifth and final member of the pack! He is the wolf dog Tory saved from testing and reason the gang became a "pack" in the first place.
THE ADULTS OF VIRALS
Christopher "Kit" Howard-
Kit is Tory's pretty clueless father. But in his defense he didn't know he had a child until years after Tory was born. He met her mother at Sailing Camp when they were 16 and now he has a daughter to raise.
As the nephew of Tory Brennan it's logical that he also works in the field of science He works at LIRI as a veteranry expert and is popular with his colleagues.
Linus & Ruth Stolowitski-
Hi's parents.
Linus is quiet and dignified, the opposite of his son. He works with at Liri as well
Ruth is somewhat religious and is often shutteling herself and Hi to temple in bursts of piety. She also runs the Community Watch team that patrols Morris Island, where all of the Virals live.
Tom & Myra Blue-
Ben's Parents.
Myra Blue lives in a condo in Mount Pleasant. The relationship status of Tom and Myra is somewhat ambiguous. Myra is not mentioned often.
Tom Blue runs the ferry service between Morris Island and the mainland. His boat is named HUGO. Tom isn't big on punishment so Ben usually gets off easy when the Virals get in trouble for their antics.
Nelson & Lorelei Denvers-
Shelton's Parents.
An IT specialist at LIRI, Nelson is a fomer dock worker from the Bronx who joined the Navy. While stationed in Okanawa he met Lorelei while taching computer science at a japanese community college. He was the first black man Lorelei ever met.
Lorelei is a veternairy technician at LIRI. She and Nelson are the strictest of the Virals parents and have no tolerance for criminal behavour.
BOLTON ACADEMY PEERS
Chance Clayborn-
Described as Darkly handsome and exceedingly rich. Captain of the Lacrosse team and a beautiful girlfriend, Hannah Wythe. Even though he has a girlfriend he often flirts with Tory.
After witnessing the Virals Pack flare he is determined to find out their secret.
Jason Taylor-
He is described as looking like a "Nordic God" with his blond hair and blue eyes. He's a rich kid that often hosts parties on his families yacht. He has an interest in Tory and can't stand Ben.
"The Tripod"-
Or as Tory calls them "The Tripod of Skank"
They are the mean girls at school. They are snarky, rude and bully the Virals pack. The Tripod is made up of the following three girls.
Madison Dunkle-
Madison hates Tory since she has set her sights on Jason and he pays more attention to Tory than her. This results in her bullying Tory until Tory goes Viral on her and flashes her golden eyes. Now Madison is terrified of Tory.
Courtney Holt-
Courtney is a ditz and kind of slow on the uptake.
Ashley Bodford-
Ashley is also known to be a little ditzy but she is sharper than Courtney.
GETTING TO KNOW BRENDAN REICHS!
1.What is currently on your nightstand or e reader just itching to be read?

I'm about to read DUST, the third book in Hugh Howey's Silo series. I can't wait. It's such a fully-developed dystopian world. One of the best series I've read this year.
After that, I plan to finish Marie Lu's LEGEND series and start DANGEROUS CREATURES by Kami Garcia and Margaret Stohl.
2. What is your go to cure for writers block?
Power. Through. I don't believe in writer's block. I outline a whole story before I begin, so on any given day I usually know what I need to write before I start. Some days, it's terrible product, but I force myself to get something,
anything
on the page. Fixing is easier than creating.
3. You were a litigation attorney before you wrote the Virals series, what prompted such an amazing career change?
I really didn't like being a lawyer. The hours are terrible, and the people can be too. So when I saw an opportunity to do something creative instead, I jumped with both feet. No regrets.
4. Where did the inspiration for Virals come from?
My sister got married in Turks and Caicos, and during the trip I adopted a "potcake" puppy named Turk. Soon after returning to the States, Turk caught Parvovirus, an extremely dangerous canine pathogen. He was extremely sick before recovering, and that ordeal gave me the idea for Virals- what could happen if canine Parvovirus suddenly became contagious to humans?
If you would like to know more about the charity that Brendan adopted Turk from please visit:
5. You co-author Virals with your mom, Kathy Reichs, how does co-authoring work?
It's an interesting process, I assure you. We outline together and then I write the first draft. She edits, and then we fight about every last detail for weeks. It can be exhausting, but overall it's been great.
6. Do you feel that writing Virals has brought your family closer?
At times. And at time it goes the other way, usually during edits!
7. If you had the opportunity to become a "pack" with your best friends would you do it?
I think it would be hard for anyone to knowingly turn down a shot at superpowers, but in the books I try to emphasize the risks involved as well. The Virals don't know if this virus will ultimately kill them. It's a very real concern. That being said, I think it would be amazing to have that kind of connection with your friends. I'm in.
9. I am a huge fan of the Virals series as it combines a strong female protagonist and science, two things I feel should be written about more often in books and should be featured on television and in film. If you had an opportunity to make Virals either a TV show or a Film which would you prefer?
I'm for films. I think it would be a very exciting experience, and we are keeping our fingers crossed.
10. Who is in your dream cast?
This is a tough question, because the Virals are all so young. So every time I think I have the perfect Tory picked out, the actress gets older. For example, I really liked Alison Pill for Tory when the series began, but that ship has sailed. I love hearing suggestions from readers on this one.
This is Alison Pill!
11. Which member of the Virals gang do you most identify with?
Personality-wise, it's Hiram. He's basically me, saying what I would in any given situation. He's my ballast. My wife thinks I'm more of a Jason Taylor though.
12. The Pack become Virals after contracting a new strain of Parvovirus, would you mind telling readers a bit more about the canine parvovirus?
It's very deadly, and there's no cure for it. If a canine is in infected, you have to treat the symptoms and hope the dog's immune system can fight it off on its own. If left untreated, it's about 50% lethal overall, and even higher among puppies. Luckily there's a vaccine, so make sure to get your puppies inoculated as soon as possible!
To learn more about Canine Parvovirus visit the ASPCA at this link:
http://www.aspca.org/pet-care/dog-care/parvovirus
13. You are obviously an animal lover seeing as you have many pets! In book one of the series, Virals, the gang helps a wolf-dog pup and they often visit Loggerhead island to see the Monkeys. Will the gang be helping more animals out over the course of the series?
They will. Tory and the gang encountered a wild wolf pack in Seizure, and will face something similar in Exposure.
14. Loggerhead Island is supposed to only observe animals, not test on them, what are your feelings about animal testing in the name if science?
I don't like it. I understand that great advances in medicine have been accomplished through animal testing, but I could never support it. I've seen it firsthand, and it's too heartbreaking for me. And the
concept of testing beauty product on any kind of animal is so revolting as to defy belief.
For a searchable database of Cruelty Free Companies Visit this website:
http://features.peta.org/cruelty-free-company-search/index.aspx
I don't, really. It's not something you can just wallpaper over. It's an ache that doesn't fade. I'm working on it myself, day by day. I guess I'd say to remember the good times, and don't try to forget the person. That just makes the pain worse.
2. If there was a cure that would change your DNA back to it's original form would you take it?
Tory:
I don't know. How do you choose to become something less? But the virus may be killing us...
3. You have solved an awful lot of dangerous mysteries! Are any of you planning on going into the mystery solving business as a career?
Hi: Definitely. I'm totally PI material, to the core. I look great in hats.
Shelton: Shut it. I just want one freakin' week where I'm not breaking the law. is that too much to ask?
4. You guys are outsiders at school because you live on the island and are attending your school on scholarship.How do you deal with bullying? What advice would you give others?
Hi: Keep your head on a swivel.
Ben: Say it to my face.
5. How do you guys feel about Brendan and Kathy writing about your lives and adventures?
Tory:
It's weird. It's like a have a split personality sometimes.
Hi: Why'd they have to make me chubby? Not cool.
Ben: *shrugs*
6. What has been your most favorite mystery to solve?
Tory: I liked defeating the Gamemaster.
Hi: Buried treasure, yo! Dolla, dolla bills!
Shelton: We solved a murder once. Can't top that.
Ben: Tapping my powers. Flaring under control. Not the easiest thing.
7. Who would you chose to play the film version of yourselves?
Hi:
Hello! We're staring as ourselves. Who has more mass appeal than me?