SYNOPSIS: (From Goodreads)
The world, it seemed, had gone silent. It was something we knew but did not talk about. We were alone."

While Layla Petrovich returns home to rural Hamletville after a desperate call from her psychic grandmother, she never could have anticipated the horror of what Grandma Petrovich has foreseen. The residents of Hamletville will need Layla's cool head, fast blade and itchy trigger finger to survive the undead apocalypse that's upon them. But even that may not be enough. With mankind silenced, it soon becomes apparent that we were never alone. As the beings living on the fringe seek power, Layla must find a way to protect the ones she loves or all humanity may be lost.

It's all fun and games until someone ends up undead!
REVIEW:
I will admit I am not the biggest fan of Zombie novels. Not that I don't enjoy a good one, I just seem to have a hard time finding good ones.

I was browsing through my kindle on my way to working at Knotts Scary Farm and was looking for a good Horror novel when The Harvesting caught my eye. One good thing about the kindle? No synopsis to let me know what I am about to read! It looked like a horror novel so I dove in.

Boy am I glad I did! The Harvesting was EXCELLENT! Melanie Karsak blends the paranormal and real world superbly and gives us a new badass heroine to boot.
I love that Layla and her grandmother are considered somewhat odd in their community and yet when the going gets tough it is these two that have the knowledge of what to do. Layla is a great leader and a better fighter than most any man in the town and even when they don't head her advice she continually puts her own life on the line as she plays rescuer. There is a touch of romance, a small love triangle and some good old jealousy that adds to the story but doesn't dominate it.
And Melanie doesn't just stop at Zombies! You can look forward to seeing spirits of nature, vampires, and what we would probably describe as ghosts (though Grandma Petrovich may not) as well.
By the time you reach the end of The Harvesting you will be dying to have the next book in the series in your hands! But alas, we simply have to wait!
RATING: 4/5 Stars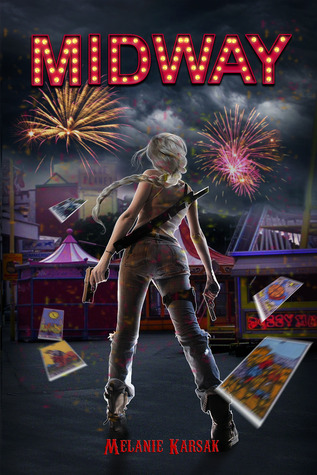 Midway (The Harvesting Series, #1.5)
SYNOPSIS:
(From Goodreads)
Midway: A Harvesting Series Novella (Book 1.5 in The Harvesting Series) is a tie-in novella that compliments The Harvesting, Book I in The Harvesting Series.

Step right up, ladies and gentlemen, for the beginning of the end.

Carnie. Ride jockey. Roustabout. White trash. Tilt girl. Gypsy. Cricket has been called a lot of things, but she never thought survivor of the zombie apocalypse would be one of them. One day she's barking on the midway, and the next day, the world is eating itself alive.

Cricket, along with Vella, a tarot reader, and Puck, Cricket's mangy mutt, find themselves running for their lives, but where can you hide when mankind has fallen? Cricket will need help if she hopes to survive.

Luckily for her, we were never really alone, and apparently, magical forces want to keep this tilt girl alive
REVIEW:
When I first heard this Novella wouldn't focus on Layla I was disappointed. I wanted to know what was going on with her and the rest of her town! Then I met Cricket.
Once again Melanie creates characters that you instantly care about. Since this is a novella there is even less build up to the wave of zombies that soon dominate her world. As people you only met a few pages before begin to turn or die you wonder why you care so much, but it is simply because Melanie's writing makes you care.
Cricket may not be as strong and badass as Layla was, but she is strong in her own ways. She is definitely a powerful woman who has a strong presence and command. My heart was breaking as I read about her losing, piece by piece, everything she loved and cared about in the world.
I can not wait for the next full novel in the series and wish it was in my hands right now!
RATING: 4/5 Stars
AN INTERVIEW WITH MELANIE KARSAK
What is currently on your nightstand or ereader itching to be read?
I just finished Rising by Holly Kelly. It's a really nice read about a contemporary mermaid. I totally recommend it. It was a lot of fun to read her take on mermaids.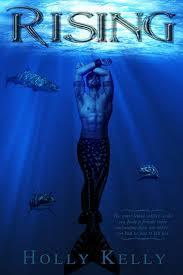 I'm currently reading Contagious by Emily Goodwin. I love Orissa, her main character, and all the zombie goodness.

2. What is your go to cure for writer's block?
Getting back to nature. If I get stuck, I find a long walk (especially on the beach) really unclogs my creative pipelines. I was feeling a bit stuck so I spent the day at the beach a couple of summers back then went home and started writing my steampunk series!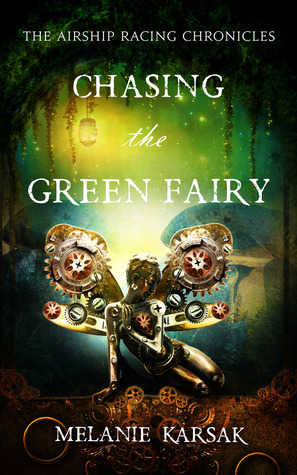 3. What are your favorite Zombie films/t.v. shows or books?
I am a Walking Dead fan. I like the zombies and the core group of characters on the show. My only issue with The Walking Dead is that sometimes they can be a little anti-feminist, but with Carol kicking ass and taking names this season, I hope they are improving.
Shaun of the Dead is my favorite zombie movie. I love it because it shows how oblivious we would probably be if the zpoc were to start!
4. How about Vampire films/t.v shows or books?
I binge-watched True Blood this summer. While Sookie annoys me, I love the vampires (especially Eric!) in this series.
I really adored Anne Rice's Interview with a Vampire (not so much the follow-up novels).
I just purchased Sanguinary by Margo Bond Collins and am looking forward to diving into that novel!
5. You write so well about a sudden Zombie Apocolypse and the aftermath, do you have your own Zombie Apocolypse plan?
Cardio is not my friend. I have two noisy toddlers, and I don't own any weapons. I am pretty sure I'll be one of the first to go, but everyone else can feel totally free to raid my house for canned goods!
6. In such an event do you think you would be as badass as Layla?
Oh my gosh, no! I may have Layla's brains, but fail in brawn and psychic abilities. I did take fencing lessons in college, so I know how to do the things Layla does with her sword, I just don't think I'd be that effective. But I might be a great side-kick for Layla!
7. I loved Grandma Petrovich! What was your inspiration for her?
Lol, my little old great, great Aunt Helen totally inspired Grandma Petrovich. Now, my aunt wasn't psychic, but she was every bit as bossy as Grandma Petrovich. My aunt Helen was the one who'd refused the microwave and made me wander around with a broken umbrella, so that was coming from real experiences. My aunt Helen was a typical bossy little Polish grandma. I sure miss that old gal!
8. What are your thoughts on the supernatural? (seeing as your book is filled with supernatural beings!)
Perhaps I sound paranoid, but I do wonder about all the unknown elements in our world. What exists in our world just outside our perception? What happened to all those creatures of lore? I don't know, but that was the question that inspired the book!
9. If you were approached by a Studio would you rather see your book interpreted as a T.V. Show or Film? Who would be in your dream cast?
Oh, I would put it on TV! I would love to see the story unfold slowly.
I would totally cast Olivia Wilde as Layla. In my head, they are pretty much the same person.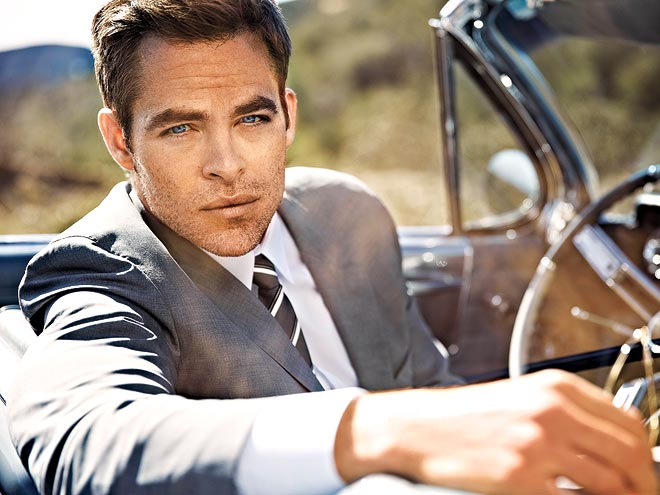 Chris Pine would make a great Jaime!
10. Finally, last question! I am so excited about the next book in the series, Midway, can you give us a hint about what to expect from Layla in the newest installment in the series? And can we look forward to seeing a lot more from her? (Please say yes!)
Thanks for asking! Midway is a parallel novella that tells the story of Cricket, another zpoc survivor. This brief novella shows us what happens to Cricket, my carnie girl, when the world ended. In Book II of this series, The Shadow Aspect, Layla's and Cricket's stories will intersect.
Thank you so much for inviting me to stop by today!
Your readers can feel free to join my newsletter for VIP access to free short stories, novel sneak peeks, cover reveals, and more: http://eepurl.com/OSPDH