You may have seen the previews for the new film Seventh Son, based on the YA series The Last Apprentice series by Joseph Delaney. I have enjoyed this series for a couple of years now and although I personally don't think the film looks that great (if you haven't read the books do so and you will see why I feel that way!) But that is the risk that is run when books are adapted to films.
SYNOPSIS:
A blood-curdling original novella from the world of the internationally bestselling fantasy adventure series that inspired the forthcoming major motion picture
Seventh Son
! This short novella stars the Spook's seventh apprentice, a boy named Will Johnson.
Will is a seventh son of a seventh son, the perfect candidate to train as the Spook's apprentice . . . but Will is lazy. Mr. Gregory is giving him one last chance to shape up or be sent home. When Mr. Gregory leaves to deal with some boggarts, he tells Will to catch up on his notes, practice throwing his silver chain, and not to take on any spook business of his own—under
any
circumstances. But when the pig butcher's son rings the Spook's bell, panicked because a witch has his father, can Will really ignore him?
REVIEW
:
I recently read the newest addition to the world of the Old Spook Gregory and his Apprentice Will Johnson (Though I miss Thomas). A great little Novella that takes you back to the story you love with a look at how Old Gregory's seventh apprentice, Will, was compared to Thomas.
Since this was a Novella the story was pretty short and sweet. I really loved how the story focuses on Will finding his strength and courage. He may not do everything right but Delaney really shows how Will's heart is in the right place.
I also really enjoyed that Greek mythology was brought into this tale! Circe is a wonderful villain to include in these tales. You may remember her from reading The Odyssey. She is the woman that turns men into swine on the island Aeaea. She is the daughter of Helios and Perce. If you don't know about her I think that this Novella will certainly inspire you to read more about her!
RATING:
THE BOOKS OF
THE LAST APPRENTICE
SERIES
\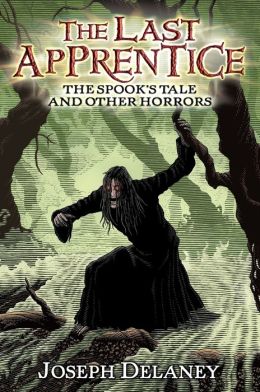 WHAT TO READ NEXT...
Amazon Purchase Link
Amazon Purchase Link