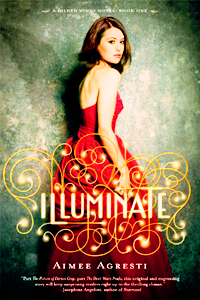 Haven Terra is a brainy, shy high school outcast. But everything changes when she is awarded a prestigious internship at a posh Chicago hotel under the watchful eyes of a group of gorgeous strangers: the powerful and alluring hotel owner Aurelia Brown; her second-in-command, the dashing Lucian Grove; and their stunning but aloof staff of glamazons called The Outfit.
As Haven begins falling for Lucian, she discovers that these beautiful people are not quite what they seem. With the help of a mysterious book, she uncovers the evil agenda of Aurelia and company: they're in the business of buying souls. Will they succeed in wooing Haven to join them in their recruitment efforts, or will she be able to thwart this devilish set's plans to take the souls of her classmates on prom night at the hotel?
Haven Terra is still recovering from an internship that brought her literally to the brink of hell when a trip to New Orleans leads to more trouble. Graduating early from high school leaves the spring semester free, so Haven and her friends Dante and Lance head to the Big Easy to volunteer with community service projects. But their true mission becomes clear when they run across an enclave of devils known as the Krewe. New Orleans is a free-for-all for these shape-shifting devils, who are more reckless and vicious than any Haven, Lance, and Dante have encountered. And they soon discover their French Quarter housemates are also angels-in-training, and together they must face off with the Krewe in their quest for wings. But Haven's resolve is tested when Lucian, the repentant devil with whom she was infatuated, resurfaces and asks her for help escaping the underworld. Can he be trusted? Or will aiding him cost Haven her angel wings—and her life? Thrilling, romantic, and full of surprises, this gripping sequel to Illuminate takes the battle of good and evil to the next level
REVIEW:
I really enjoyed both Illuminate and Infatuate. The story is one of the more original I have read in the past couple of years. A lot of the Supernatural stories are somewhat repetative nowadays but this was fairly fresh. There is a small love triangle but not a huge one (it's hard to find a YA book WITHOUT a love triangle nowadays!)
I found that this series captures the real life and emotions of a teenager (especially one who is an overachiever and perhaps a bit standoffish) amazingly well for being a fantasy story. Both books were action packed and kept me completely drawn in until the very end. When I finished Infatuate I was so frustrated that I can't get the next book yet! I am definitely looking forward to the conclusion of Agresti's tale!
RATING: