SPOTLIGHT ON:
The Mythos Academy Series
By Jennifer Estep
Who would enjoy the Mythos Academy series? Fans of the Percy Jackson series will feel right at home at Mythos Academy.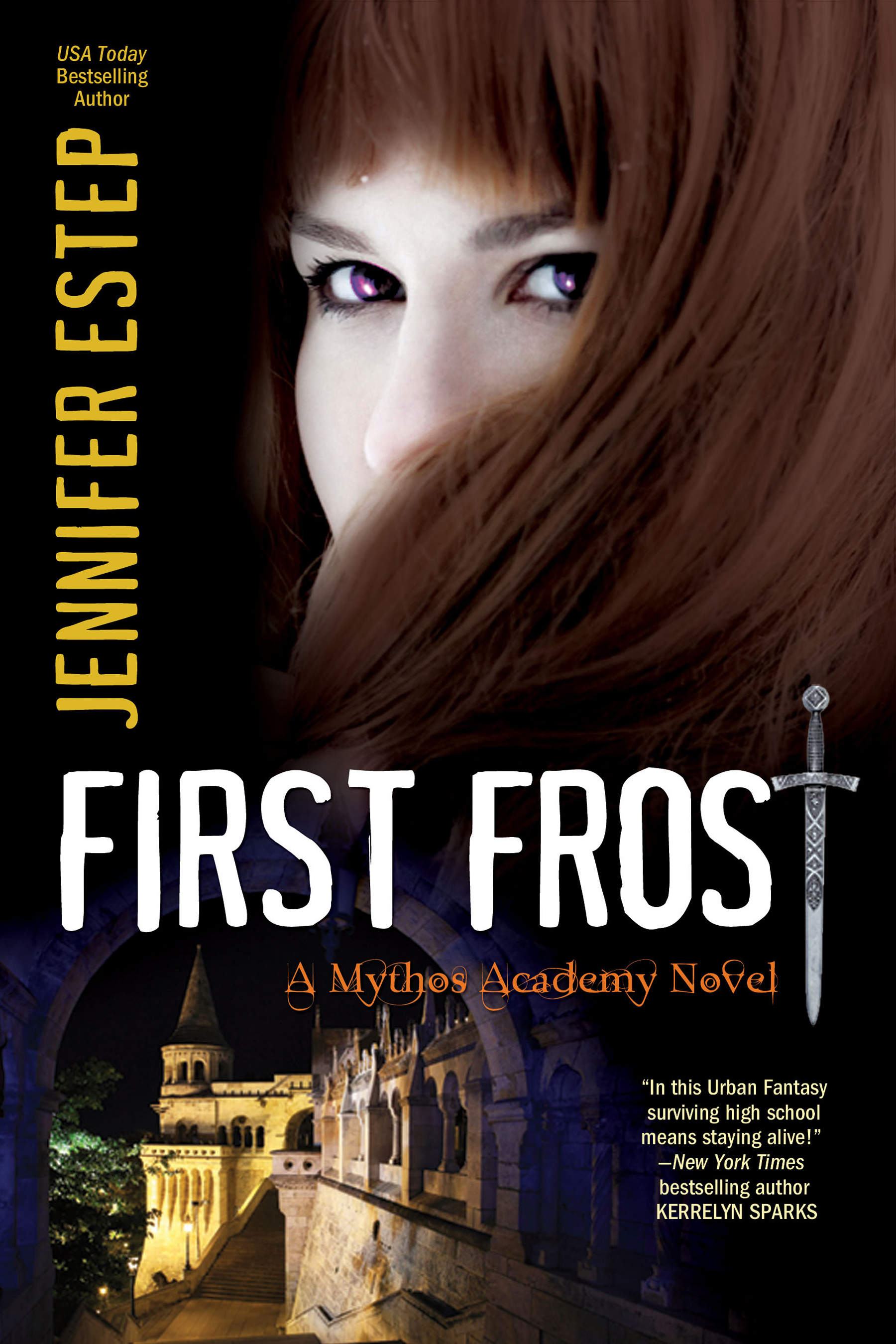 FIRST FROST
:
a prequel novella that is only available in e reader format
.
Synopsis: Meet Gwen Frost. Gwen has a unique gift. When she touches something she can see every memory attached to it. Which obviously makes her a little nosy. But she isn't prepared for what she sees when she borrows her friend Paige's hairbrush one day. And she is defenitly not prepared for the series of events that one vision would set off.
TOUCH OF FROST:
HALLOWEEN FROST:
This story can be found in the Entangled anthology By Edie Ramer (all proceeds go to the Breast Cancer Research Fund)
Synopsis: Gwen and her friends are in for more tricks than treas when they run into a mythological monster intent on killing them.
KISS OF FROST:
Synopsis: Gwen is nursing a crushed heart. And to make matters worse the beautiful boy that has done the crushing is in charge of shaping her into a master swordsman. In other words, torture. Gwen doesn't know how she will get through the rest of the year when an assassin shoots an arrow at her head while she is working in the library. Now Gwen has to learn how to fight or die trying.
DARK FROST:
Synopsis: You have to know life wont be any semblance of "normal" when you go to a school steeped in Mythology, but you don't usually expect to be the person that an entire evil organization wants dead. Gwen soon finds out her Mom has hid a powerful artifact and that she's in a fight for her life.
CRIMSON FROST:
Synopsis: Gwen is alone in the fight to clear her name, everyone believes she has gone to the dark side, can Gwen show them the truth in time?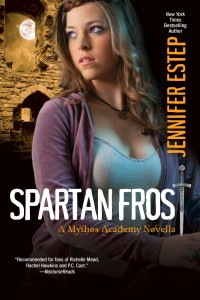 SPARTAN FROST:
Synopsis: Meet Logan Quinn, the beautiful Spartan warrior and love of Gwen's life. He has to get away. Away from Gwen. Away from Mythos Academy. Away from everything before he hurts someone else he loves. This is Logan's story.
MIDNIGHT FROST:
Synopsis: Things seem to be back to normal at Mythos Academy, well as normal as things can get when you live in a world where Myths are real. Until someone tries to poison Gwen. The good news is Gwen avoided drinking the poison, the bad news is someone else drank it instead. Now Gwen has
to find the antidote and fast, even though she knows that to retrieve the antidote she has to walk right into a deadly trap.
KILLER FROST
Release Date: February 25, 2014
Synopsis:
The final battle has come and everyone is looking too Gwen to lead them to victory. But she's still not sure how she is supposed to achieve that. Can she find it in herself to rid the world of this evil scourge or will this be the end of Gwen Frost?
Review:
Killer frost was a great ending to the Mythos Academy series that all fans will be satisfied with. I have to admit I didn't enjoy it as much as Midnight Frost. The action doesn't start until about halfway into the book and there is less time spent with the mythological creatures Gwen cares for (which tends to be my favorite part of the series.)
I will admit I cried. Be prepared to read about the loss that comes with all great battles between good and evil. Gwen and her friends continue to inspire and you will root for them and feel their triumphs and their anguish as their story comes to an end.
I also really enjoyed the use of mythology throughout the series. Whether you know a lot about mythology and like to hear modern takes on the ancient myths of you are new to mythology Jennifer writes in such a way that everyone can enjoy it. For those new to mythology the story certainly makes you crave more and may lead you to learn more about the myths of old.
Jennifer Estep not only weaves a wonderful conclusion to her Mythos Academy series but leaves her readers with a wonderful message to carry with them, "Self-sacrifice is a very powerful thing, especially if you do it of your own free will," In a world where people are becoming increasingly more selfish it is an important statement to remember. The sacrifice of ones self and ones time can change the course of history.
Overall I loved the Mythos Academy series. Was it life changing? No, not really. But it was a great series that was entertaining and included tons of important messages that even adults need to be reminded of at times. The loyalty, friendship, faith and bravery shown through out the entire series is inspiring and it's something every reader should aspire to emulate.
Killer Frost: ****/*****
Mythos Academy Series: ****/*****
Who Will You Meet at MYTHOS ACADEMY?
Plus my dream cast! (With help from my mom and husband)

Gwen Frost: A Gypsy with the power of psychometry, the ability to know an objects history by touch. Gwen enjoys knowing other peoples secrets and the fact that they can't hide them from her. She also has a MAJOR sweet tooth that her Grandma Frost helps keep satisfied. She's most comfortable in jeans and a sweatshirt reading a comic book.
My Pick? Victoria Justice!

Daphne Cruz: A Valkyrie and world class archer. She also has an amazing gift with computers. Daphne looks like the epitomy of a "girly girl" obsessed with pink, designer clothes and high end purses. She and Gwen are best friends.
My Pick? Jennifer Lawrence!

Logan Quinn: Drop dead gorgeous and deadly to boot Logan is a Spartan and the best fighter on campus. He is the love of Gwen's life. But he has secrets. Secrets he doesn't want anyone to know, especially Gwen.
My Pick? David Henrie!

Carson Callahan: Casrson is a Celt and the head of the marching band. Quiet, shy and one of the nicest guys around but a strong and fierce warrior when it comes down to it.
My Pick? Cody Linley!

Oliver Hector: A Spartan who helps with Gwen with her weapons training and soon becomes one of her close friends and fierce protectors.
My Pick? James McAvoy!

Kenzie Tanaka: Kenzie is another Spartan who is close to Gwen and helps with her training. He is also dating Talia Pizarro.
My Husband's Pick? Henry Shum Jr!

Savannah Warren: Savannah is the gorgeous Amazon that is dating Logan, that is until Gwen walks into the picture.
My Pick? Shailene Woodley!

Talia Pizarro: Talia is the Gwen's Amazonian sparring partner and Savannah's best friend.
My Mom's Pick? Danielle Panabaker!

Alexei Sokolov: A Bogatyr Warrior training to become a member of the protectorate.
My Mom's Pick? Mark Salling!

Rory Forseti: Gwen's Spartan cousin and a first year student at the Colorado branch of Mythos Academy.
My Pick? Eva Green!

Coach Ajax: The head of the Athletic Department.
My Mom's Pick? Robert Downey Jr

Geraldine (Grandma) Frost: Gwen's Grandma. She is also a Gypsy and can see the future. She is the one that keeps Gwen (and her friends) in sweets!
My Mom's Pick? Dianne Wiest!

Grace Frost: Gwen's mother. She has the ability to tell a truth from a lie just by listening to people speak.
My Husbands Pick? Jennifer Connelly!

Nickamedes: The head librarian of The Library of Antiquities. He is also Logan's Uncle.
My Mom's Pick? Mark Ruffalo!

Professor Aurora Metis: The myth-history teacher at Mythos Academy. She and Grace were best friends as students and she has become Gwen's mentor.
My Pick? Jaime Gertz!

Raven: Raven can be found fulfilling various odd jobs around campus but is best known for manning the coffee cart. There seems to be more than what meets the eye with her...
My Mom's Pick? Annette Bening!

Linus Quinn: Logan's Father and the head of the Protectorate.
We all agree on this one! Edward Norton!

Agrona Quinn: Logan's Stepmom and a member of the Protectorate.
My Pick? Madeline Stowe!

Rachel Maddox: A chef at the Colorado branch of Mythos Academy and Rory's Aunt.
My Pick? Jaimie Alexander!

Covington: The Head Librarian of the Colorado branch Library of Antiquities.
My Mom's Pick? Jason Statham!

Loki: The Norse god of chaos.
My Pick? Benedict Cumberbatch!

Nike: The Greek goddess of victory.
My Pick? Liv Tyler!

Sigyn: The Norse goddess of devotion and Loki's wife.
My Pick? Jessica Chastain!
Meet The Author
Jennifer Estep is the New York Times best selling author behind the Elemental Assassins series (adults) , Mythos Academy (young adults) and Bigtime, a paranormal romance series (adults).