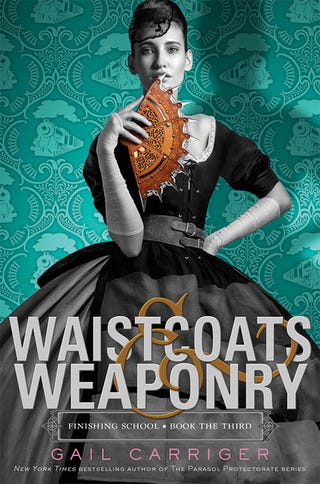 SYNOPSIS:
Sophronia continues second year finishing school in style -- with a steel-bladed fan secreted in the folds of her ball gown. She, best friend Dimity, sweet sootie Soap, and charming Lord Felix Mersey stow away on train to return classmate Sidheag to her werewolf pack in Scotland. No one suspects what or who would be aboard the suspiciously empty train.
Waistcoats and Weaponry has to be my favorite book in the Finishing School Series so far. I was really happy to see more of Soap and Felix in this one, though I missed Vieve's presence.
In this installment The Parasol Protectrate series and The Finishing Schoool Series intertwine more. Being a fan of both series this has me SO EXCITED! Sophronia is really coming in to her own as the novels progress. She is strong, intelligent, and has a great heart.
There is SO much I could, and want, to say about this book. (Seriously I could go on and on) But if I said everything I wanted to (or even a portion of what I want to) this review would be riddled with spoilers, and the book is way to good for me to go about spoiling it for you!
So I HIGHLY recommend that you pick this one up. :)
RATING:
DON'T MISS THE OTHER NOVELS
IN THE FINISHING SCHOOL SERIES!