I adored Sesame Street when I was growing up. I still do. But I was born before the age of Elmo and for me Grover was the cool monster on the block. I loved There's a Monster at the End of This Book. It was so clever, and I could actually recognize that it was clever! I would laugh and laugh as we read this one.
I remember crying when the boy looses his rabbit. I had a stuffed teddy bear named softy that I carries with me everywhere until I lost him for good when I was in the 5th grade. I loved him more than anything and I always hoped that I loved him like the boy loved his rabbit and that maybe he could become real too. The Velveteen Rabbit teaches readers old and young a like a lot about love and what true beauty is.
We could all be so lucky as to be loved as much as the boy loved that rabbit.
I'm pretty sure everyone in my family read me this book at least once. I have pictures of myself sitting with relatives reading it to me. I think I was a bit obsessed with it. I loved this one story about a little girl attending her first protest when she is little, and the story about these two little girls who are best friends that are included in the anthology. The pictures were beautiful and the messages really reached me even at a young age. I credit this book, and my parents, for my political awareness and involvement at a young age.
YEAR FOUR: I LIKE ME
I'm sure my parent's liked this one because of it's excellent message about self love and body image. (Despite my obsession with the book I still ended up having issues with both of these things, which just goes to show that even when your parents try to curtail this prominent mental issues it can still hit anyone and hit them hard.) I am not 100% why I loved this book so much, but I did make my parents read it to me so many times that I had it memorized, complete with when to turn the page, when I was in preschool and For awhile I tricked my parents into thinking I could read!!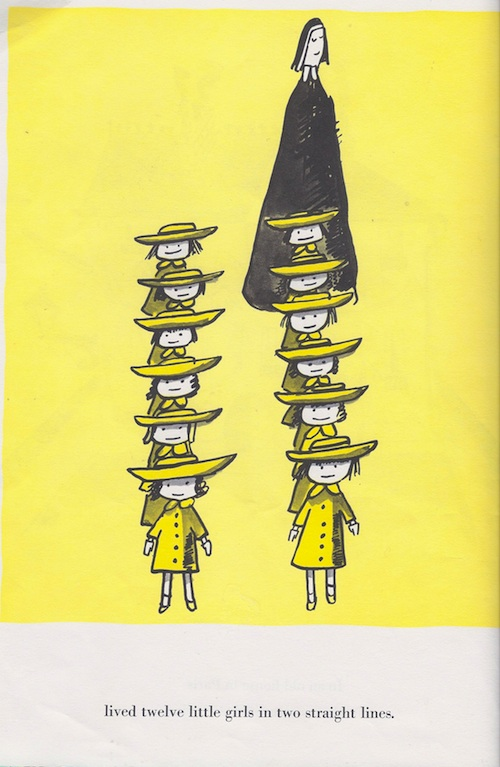 Madeline sparked my love for Paris and Linnea helped create my obsession. She made me want to visit France more than anything. She helped me fall in love with an amazing artist, whose work I could never get enough of. Which in turn lead me to fall in love with more artists and impressionism specifically. My dad took me to Paris a couple of years later and we followed a lot of Linnea's itinerary. That is the trip that helped me realize that I loved art, travel and especially Photography. Linnea helped me discover a lot of my passions.
I have told you guys that I was a reluctant reader before. My mom blames it on the way they were teaching reading back then, I blame it on the fact that no one noticed signs of dyslexia until I was around High School age. I think we are probably both a little bit right. Nancy Drew Notebooks helped turn me into a reader. They are what changed reading from being like pulling teeth to an obsession with me. These were the books that brought the "no reading at the table" rule into our house. After I got started on these books I would read most anything I could get my hands on.
I bought my copy of The Complete Works of Lewis Carroll at the AMAZING used bookstore Shakespeare and Company when my dad took me to Paris. Free of illustrations and so heavy this book felt so adult, yet was still perfect because it hand the entrance to Wonderland inside of its pages. I remember that it smelled wonderful and I felt so grown up reading it.
I ate these books up like they were potato chips. I started with the Baby-Sitters Little Sister books and then just kept going. I read them all. I read the mysteries, the super specials, the diaries. Everything. I found the videos of the TV show at the library and rented those, and then the full length feature film came out and I was over the moon! (Both the show and the movie are on Netflix by the way) I didn't really fit in well at school and I desperately wished that I had a group of friends like these girls.
My mom and I read a lot of Lois Lowry books together while I was growing up. I honestly loved all of her books, but for some reason this one was special. I think it was one of the first books to make me ugly cry, and I had a difficult time expressing myself when I was a kid... and as an adult. I'm pretty sure this was the first book to teach me how cathartic sad books can be.
I couldn't explain to you why this book was so special to me the first time I read it. I fell in love with Harry's world though and wished desperately that I could go to. It all started with this book though and soon on my darkest days I was reminding myself that I had to stay on this earth because I hadn't finished Harry's story yet. In 6th grade I was Harry for Halloween, I went to all the midnight releases and stayed up all night just to finish the book before anyone could spoil it for me. When the movies came out I went to the midnight releases of those as well, and David and I even scheduled it so our wedding was around the release of the last of the films so that we could see it together as our big celebration of being married. Harry Potter helped save my life. I am forever indebted to Ms. Rowling, Dumbledore and that wonderful trio that is Harry, Ron and Hermione.
I loved Stargirl. Like I have said, I never really fit in. I was a bit of a free spirit and a lot of people didn't understand that. It's probably why I felt a kinship with the quirky Stargirl. She reminded me, in a way, of Toppenga from Boy Meets World. It made me feel more ok with being who I was.
22 was a bad year for my depression. I did a lot of lighter reading that year and Charlaine Harris' paranormal world was captivating for me. I liked the paranormal elements and the relationships that went on, plus the fact that there were mysteries involved alongside all the other drama going on. They were a great way to escape from the world for awhile. Sadly I tried to read the last book in the series when it was published and I couldn't get past the first chapter.
Finding the Artemis Fowl series was like a breath of fresh air. I loved that I was falling in love with the villain of the story. Artemis was like Batman but a bad guy instead of a good guy. The series brought me deeper back into the world of fairy tales. I wanted to shout it's praises from the rooftops. I am still absolutely in love with the series and I can't wait to be able to read it aloud to someone hearing it for the first time someday.
Before I found this series I was already a little bit fascinated with the Steampunk Genre. After finding this series I was in love, and looking for more that met the high standards Gail Carriger set. Once again I fell in love with the paranormal world, the romance, the mystery and now the steampunk spin on it all. I loved the England Carriger described and I wanted to crawl inside her books and live there myself! My favorite part, however, was the headstrong and willful protagonist that is Alexia Tarabotti.
If you follow my blog you know I adore this series. 26 was the year I discovered it. Already and avid fan of Bones the Virals series was an exciting look into another part of the same world. I love that it is a book based on science, science fiction, forensics and mystery written for young adults featuring a female as the main main character. I love that it shows that it is ok to be different from the girly girl mold. It's ok to be a tom boy and get along with guys better. It's ok to be head strong and tough. When I found out that Brendan Reichs agreed to an interview with me I actually jumped up and down I was so excited! This is a series that this generation needs and I am so happy to have found it!