If you are with someone I hope you have fun and love abounds and if you are alone today I hope you have fun and love abounds! There is no reason not to have an amazing day just because you are flying solo.
Do you even know why we celebrate Valentines day? It actually has its roots in an ancient Roman festival called Lupercalia which was a fertility celebration. It involved killing animals, skinning them and then whipping the women with the skins. Lovely celebration, no?
It was Pope Gelasius I who recast Lupercalia as a Christian feast to honor St. Valentine in 496. It is unclear to which St. Valentine Pope Gelasius I was intending to honor. According to records at this point in time there were at least 3 Saints that went by St. Valentine. The first was a priest in Rome, the second was a bishop in Terni and there is hardly anything known about the third except he died in Africa. What all three of these men have in common is that they are all said to have been martyred on February 14th.
So how did an ancient Roman celebration turned Catholic feast day get turned into a worldwide holiday that is focused on love and romance? It was actually Chaucer who first linked the feast day to love. In 1381 Chaucer composed a poem to honor the engagement of Richard II and Anne of Bohemia. IN his poem "The Parlement of Fowls" the royal engagement, the mating season of birds, and St. Valentines Day are linked as can be seen in this passage:
As you can see the holiday has continued to evolve over the centuries. By the 18th century gift-giving and handmade cards had become common in England and eventually spread to America. The tradition of valentines did not become widespread in the United States until the 1850's when Esther A Howland began mass-producing them!
Esther A Howland

The First Factory to mass produce Valentines Day Cards




A Sample of Esther's work.
My mom always did something to make Valentines Day special for me. I associate it with love and friendship. I have never had a big Valentines Day date and I am perfectly ok with that! I would rather hang out, have a pizza and watch a good DVD or read a book instead. Which is what my husband and I are up to today. So I thought I would recommend some films for you that are based on books. All romances of course because it is Valentines Day!
Princess Bride based on the novel by William Goldman
(One of my all time favorite books and films! If you haven't read it or watched it do so!)
ABOUT THE BOOK:
What happens when the most beautiful girl in the world marries the handsomest prince of all time and he turns out to be...well...a lot less than the man of her dreams?

As a boy, William Goldman claims, he loved to hear his father read the S. Morgenstern classic, The Princess Bride. But as a grown-up he discovered that the boring parts were left out of good old Dad's recitation, and only the "good parts" reached his ears.

Now Goldman does Dad one better. He's reconstructed the "Good Parts Version" to delight wise kids and wide-eyed grownups everywhere.

What's it about? Fencing. Fighting. True Love. Strong Hate. Harsh Revenge. A Few Giants. Lots of Bad Men. Lots of Good Men. Five or Six Beautiful Women. Beasties Monstrous and Gentle. Some Swell Escapes and Captures. Death, Lies, Truth, Miracles, and a Little Sex.

In short, it's about everything
ABOUT THE FILM:
Robin Wright and Cary Elwes star in this fairytale adventure about a beautiful princess and the gallant hero who rescues her from an evil villain. Directed by Rob Reiner, it's an enchanting classic the whole family will love!

A Walk To Remember based on the novel by Nicholas Sparks
(This one always makes me cry.)
ABOUT THE BOOK:
Every April, when the wind blows from the sea and mingles with the scent of lilacs, Landon Carter remembers his last year at Beaufort High. It was 1958, and Landon had already dated a girl or two. He even swore that he had once been in love. Certainly the last person in town he thought he'd fall for was Jamie Sullivan, the daughter of the town's Baptist minister.

A quiet girl who always carried a Bible with her schoolbooks, Jamie seemed content living in a world apart from the other teens. She took care of her widowed father, rescued hurt animals, and helped out at the local orphanage. No boy had ever asked her out. Landon would never have dreamed of it.

Then a twist of fate made Jamie his partner for the homecoming dance, and Landon Carter's life would never be the same. Being with Jamie would show him the depths of the human heart and lead him to a decision so stunning it would send him irrevocably on the road to manhood...

Did You Know?-

That Jamie was named after Nicholas's editor, Jamie Raab?

That Landon is the name of his third son?

That Nicholas Sparks recorded his own reading for the audio version of the novel?
ABOUT THE FILM:
A Walk to Remember is a 2002 American coming-of-age teen romantic drama film based on the 1999 romance novel of the same name by Nicholas Sparks.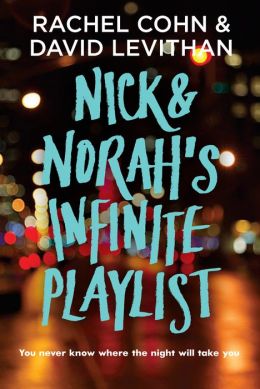 Nick and Nora's Infinite Playlist based on the novel by Rachel Cohen
ABOUT THE BOOK:
It all starts when Nick asks Norah to be his girlfriend for five minutes. He only needs five minutes to avoid his ex-girlfriend, who's just walked in to his band's show. With a new guy. And then, with one kiss, Nick and Norah are off on an adventure set against the backdrop of New York City – and smack in the middle of all the joy, anxiety, confusion, and excitement of a first date.

This he said/she said romance told by YA stars Rachel Cohn and David Levithan is a sexy, funny roller coaster of a story about one date over one very long night, with two teenagers, both recovering from broken hearts, who are just trying to figure out who they want to be – and where the next great band is playing.

Told in alternating chapters, teeming with music references, humor, angst, and endearing side characters, this is a love story you'll wish were your very own. Working together for the first time, Rachel Cohn and David Levithan have combined forces to create a book that is sure to grab readers of all ages and never let them go

ABOUT THE FILM:
Nick & Norah's Infinite Playlist is a 2008 romantic comedy-drama film directed by Peter Sollett and starring Michael Cera and Kat Dennings.

PS, I Love You based on the novel by Cecilia Ahern
(Make sure you have your tissues with you!)
ABOUT THE BOOK:
The bestselling novel that launched Cecelia Ahern to international superstardom is now a major motion picture starring Hilary Swank and Harry Connick Jr. With the help of letters her husband left her before he died, and a little nudging from an eccentric assortment of family and friends, a young widow learns to laugh, overcome her fears, and discover the world.

ABOUT THE FILM:
A grieving young widow discovers her late husband has left her a list of tasks revealed in 10 messages delivered anonymously, intended to ease her out of grief and transition her to a new life.
Pride and Prejudice, Bride and Prejudice based on Pride and Prejudice by Jane Austen
As you can see this classic has been reproduced many, many times!
ABOUT THE BOOK PRIDE AND PREJUDICE:
"It is a truth universally acknowledged, that a single man in possession of a good fortune must be in want of a wife."

So begins Pride and Prejudice, Jane Austen's witty comedy of manners--one of the most popular novels of all time--that features splendidly civilized sparring between the proud Mr. Darcy and the prejudiced Elizabeth Bennet as they play out their spirited courtship in a series of eighteenth-century drawing-room intrigues.


ABOUT THE BOOK PRIDE AND PREJUDICE AND ZOMBIES:|
"It is a truth universally acknowledged that a zombie in possession of brains must be in want of more brains."

So begins Pride and Prejudice and Zombies, an expanded edition of the beloved Jane Austen novel featuring all-new scenes of bone-crunching zombie mayhem. As our story opens, a mysterious plague has fallen upon the quiet English village of Meryton—and the dead are returning to life! Feisty heroine Elizabeth Bennet is determined to wipe out the zombie menace, but she's soon distracted by the arrival of the haughty and arrogant Mr. Darcy. What ensues is a delightful comedy of manners with plenty of civilized sparring between the two young lovers—and even more violent sparring on the blood-soaked battlefield. Can Elizabeth vanquish the spawn of Satan? And overcome the social prejudices of the class-conscious landed gentry? Complete with romance, heartbreak, swordfights, cannibalism, and thousands of rotting corpses, Pride and Prejudice and Zombies transforms a masterpiece of world literature into something you'd actually want to read
ABOUT THE BOOK PRIDE AND PREJUDICE AND ZOMBIES: DAWN OF THE DREADFULS:
In a prequel to the best-selling Pride and Prejudice and Zombies, Elizabeth Bennet evolves from a simple young teenager into a savage slayer of the undead, as she trains with nunchucks and katana swords and experiences a tragic first romance.

ABOUT THE FILM PRIDE AND PREJUDICE:
Pride & Prejudice is a 2005 British romance film directed by Joe Wright and based on Jane Austen's novel of the same name, published in 1813

ABOUT THE FILM BRIDE AND PREJUDICE:
Bride and Prejudice is a 2004 romantic musical film directed by Gurinder Chadha. The screenplay by Chadha and Paul Mayeda Berges is a Bollywood-style adaptation of Pride and Prejudice by Jane Austen.
Little Women based on the novel by Louisa May Alcott
(My Mom and I used to watch the 1994 version of Little Women on rainy days)
ABOUT THE BOOK:
In picturesque nineteenth-century New England, tomboyish Jo, beautiful Meg, fragile Beth, and romantic Amy come of age while their father is off to war.
ABOUT THE FILM:
Little Women is a 1994 American drama film directed by Gillian Armstrong. The screenplay by Robin Swicord is based on the Louisa May Alcott novel of the same name.

The Great Gatsby based on the novel by F. Scott Fitzgerald
ABOUT THE BOOK:
In 1922, F. Scott Fitzgerald announced his decision to write "something new--something extraordinary and beautiful and simple and intricately patterned." That extraordinary, beautiful, intricately patterned, and above all, simple novel became The Great Gatsby, arguably Fitzgerald's finest work and certainly the book for which he is best known. A portrait of the Jazz Age in all of its decadence and excess, Gatsby captured the spirit of the author's generation and earned itself a permanent place in American mythology. Self-made, self-invented millionaire Jay Gatsby embodies some of Fitzgerald's--and his country's--most abiding obsessions: money, ambition, greed, and the promise of new beginnings. "Gatsby believed in the green light, the orgiastic future that year by year recedes before us. It eluded us then, but that's no matter--tomorrow we will run faster, stretch out our arms farther.... And one fine morning--" Gatsby's rise to glory and eventual fall from grace becomes a kind of cautionary tale about the American Dream.

It's also a love story, of sorts, the narrative of Gatsby's quixotic passion for Daisy Buchanan. The pair meet five years before the novel begins, when Daisy is a legendary young Louisville beauty and Gatsby an impoverished officer. They fall in love, but while Gatsby serves overseas, Daisy marries the brutal, bullying, but extremely rich Tom Buchanan. After the war, Gatsby devotes himself blindly to the pursuit of wealth by whatever means--and to the pursuit of Daisy, which amounts to the same thing. "Her voice is full of money," Gatsby says admiringly, in one of the novel's more famous descriptions. His millions made, Gatsby buys a mansion across Long Island Sound from Daisy's patrician East Egg address, throws lavish parties, and waits for her to appear. When she does, events unfold with all the tragic inevitability of a Greek drama, with detached, cynical neighbor Nick Carraway acting as chorus throughout. Spare, elegantly plotted, and written in crystalline prose, The Great Gatsby is as perfectly satisfying as the best kind of poem

ABOUT THE FILM:
The Great Gatsby is a 2013 Australian-American
[3]
3D drama film. An adaptation of the film was a tribute to F. Scott Fitzgerald on the 116th anniversary of his birth and the 1925 novel of the same name, the film was co-written and directed by Baz Luhrmann, and stars Leonardo DiCaprio, Tobey Maguire, Carey Mulligan, Joel Edgerton, and Elizabeth Debicki.[4] It follows the life and times of millionaire Jay Gatsby and his neighbor Nick, who recounts his encounter with Gatsby at the height of the Roaring Twenties. The film was originally going to be released on December 25, 2012, but moved to May 10, 2013 in 3D. It received mixed reviews from critics, but proved a financial success. The government of Australia contributed financially to the making of the film with tax subsidies.[5] In 2014, the film was nominated for the two Academy Awards: Best Production Design and Best Costume Design.

Beastly based on the novel by Alex Finn
ABOUT THE BOOK:
I am a beast.

A beast. Not quite wolf or bear, gorilla or dog but a horrible new creature who walks upright--a creature with fangs and claws and hair springing from every pore. I am a monster.

You think I'm talking fairy tales? No way. The place is New York City. The time is now. It's no deformity, no disease. And I'll stay this way forever--ruined--unless I can break the spell.

Yes, the spell, the one the witch in my English class cast on me. Why did she turn me into a beast who hides by day and prowls by night? I'll tell you. I'll tell you how I used to be Kyle Kingsbury, the guy you wished you were, with money, perfect looks, and the perfect life. And then, I'll tell you how I became perfectly . . . beastly.

ABOUT THE FILM:
Beastly is a 2011 romantic fantasy drama film loosely based on Alex Flinn's 2007 novel of the same name. It is a retelling of the fairytale Beauty and the Beast and is set in modern-day New York City.
The Silver Linings Playbook based on the novel by Matthew Quick
ABOUT THE BOOK:
Meet Pat. Pat has a theory: his life is a movie produced by God. And his God-given mission is to become physically fit and emotionally literate, whereupon God will ensure a happy ending for him -- the return of his estranged wife Nikki. (It might not come as a surprise to learn that Pat has spent time in a mental health facility.) The problem is, Pat's now home, and everything feels off. No one will talk to him about Nikki; his beloved Philadelphia Eagles keep losing; he's being pursued by the deeply odd Tiffany; his new therapist seems to recommend adultery as a form of therapy. Plus, he's being hunted by Kenny G!

In this enchanting novel, Matthew Quick takes us inside Pat's mind, showing us the world from his distorted yet endearing perspective. As the award-winning novelist Justin Cronin put it: "Tender, soulful, hilarious, and true, The Silver Linings Playbook is a wonderful debut."
ABOUT THE FILM:
Silver Linings Playbook is a 2012 American romantic comedy-drama film written and directed by David O. Russell, adapted from the novel The Silver Linings Playbook by Matthew Quick.

Terms of Enderment based on the novel by Larry McMurty
ABOUT THE BOOK:
An Oscar-winning story of a memorable mother and her fiesty daughter who find the courage and humor to live through life's hazards and to love each other as never before. The Pulitzer Prize-winning author of Lonesome Dove created two characters who won the hearts of readers and moviegoers everywhere--Aurora Greenway and her daughter Emma.
ABOUT THE FILM:
Terms of Endearment
is a 1983
comedy-drama film
adapted from the novel of the same name by
Larry McMurtry
directed, written, and produced by
James L. Brooks
and starring
Shirley MacLaine
,
Debra Winger
,
Jack Nicholson
,
Danny DeVito
,
Jeff Daniels
, and
John Lithgow
. The film covers 30 years of the relationship between Aurora Greenway (MacLaine) and her daughter Emma (Winger).
The film received 11
Academy Award
nominations and won five. Brooks won the Academy Awards for
Best Picture
,
Best Director
, and
Best Writing (Adapted Screenplay)
while MacLaine won the
Academy Award for Best Actress
and Nicholson won the
Academy Award for Best Supporting Actor
. In addition, it won four
Golden Globes
:
Best Motion Picture – Drama
,
Best Actress in a Drama
(MacLaine),
Best Supporting Actor
(Nicholson), and
Best Screenplay
(Brooks).

Tuck Everlasting based on the novel by Natalie Babitt
ABOUT THE BOOK:

Doomed to - or blessed with - eternal life after drinking from a magic spring, the Tuck family wanders about trying to live as inconspicuously and comfortably as they can. When ten-year-old Winnie Foster stumbles on their secret, the Tucks take her home and explain why living forever at one age is less a blessing that it might seem. Complications arise when Winnie is followed by a stranger who wants to market the spring water for a fortune.
ABOUT THE FILM:
Tuck Everlasting is a 2002 fantasy family film based on the children's book of the same title by Natalie Babbitt published in 1975. The Walt Disney Pictures release was directed by Jay Russell.

The Fault In Our Stars based on the novel by John Green
ABOUT THE BOOK:
Despite the tumor-shrinking medical miracle that has bought her a few years, Hazel has never been anything but terminal, her final chapter inscribed upon diagnosis. But when a gorgeous plot twist named Augustus Waters suddenly appears at Cancer Kid Support Group, Hazel's story is about to be completely rewritten.
ABOUT THE FILM:
Hazel and Gus are two teenagers who share an acerbic wit, a disdain for the conventional, and a love that sweeps them on a journey. Their relationship is all the more miraculous given that Hazel's other constant companion is an oxygen tank, Gus jokes about his prosthetic leg, and they met and fell in love at a cancer support group.
****** SUMMARIES PROVIDED BY GOODREADS AND WIKIPEDIA*********

So the holiday has put me in the giving mood. I've decided to draw at least SEVEN valentines! If you win I will send you a bookish valentines day present. (Yes you will get a book, yes it will be romantical, no I wont tell you what it is!) That's the giveaway! Sadly I can only spread the love to my friends here in the United States this time. :( I still love you guys though! And I promise an international giveaway soon! Thanks for visiting and have a wonderful wonderful day!
BE MY VALENTINE GIVEAWAY
US Only Sorry Guys
a Rafflecopter giveaway