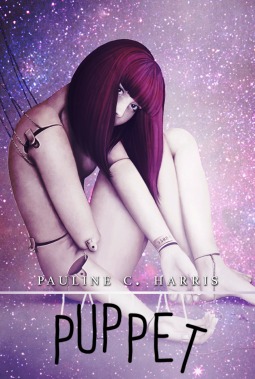 Puppet
by
Pauline C. Harris
Penelope lives in a world of advanced technology but many claim society has yet to catch up. Marionettes have advanced in the form of robots; lifelike creations remote controlled to perform super human tasks.

When Penelope makes a deal with Jed, a marionette-obsessed scientist, she doesn't fully realize what she's getting herself into. In order for Jed to take her away from the orphanage she lives in, she must first agree to undergo his experiments and tests, ultimately creating something no one ever dreamed possible; the first living marionette.

As Jed shows off his scientific creation to the world, concerns arise surrounding Penelope's abilities and what she's capable of doing. Ordered to somehow lessen her abilities, Jed makes a desperate attempt to change Penelope to make her more human, more vulnerable. After Penelope lies to the officials about her past, Jed makes sure it's the last one she'll ever utter. The truth is now the only thing she is capable of telling.

As Penelope struggles with her past, her disturbingly new present, and her uncertain future, she is thrust into a magically twisted world of mayhem in search of the one thing she wants, but knows she can never have. The chance to be just a girl again. To be normal. To be real.
Review:
Absolutely enchanting re-telling of the classic, Pinocchio.

I loved the twists that Harris included in her new, modern, version of Pinocchio. The change from puppet turning in to a living being to living being being turned into Puppet was not only intriguing but kept me enthralled.

The sci-fi of the book that replaced the magic of the classic tale was magic itself, leaving the reader wondering how far off Harris is from the truth as time goes on. Could it be possible to take a seemingly normal girl and make her the perfect being? One who is fast and strong and absolutely truthful at all times and who cannot go against an order. And even though you can't see them, poor Pen has so many strings pulling her about it could make your head spin.

Harris used a classic morality tale and made an entirely new one for the modern age. It reads quickly and easily and leaves you satisfied though wishing it hadn't ended. Everything you could look for in a book.
I loved Jed as Geppeto, Pen as Pinocchio and James as her conscious/

I highly recommend this to all fairytale fans, sci-fi fans, or just readers in general.

*I received a copy of this book in exchange for a fair and honest review
Readers Who Enjoyed The Following Will Probably Enjoy Puppet:
The Lunar Chronicles Series
Ella Enchanted
The Peter and the Starcatchers Series